Two strange Christmas traditions from the US & UK
Some Christmas rituals are common throughout western cultures: lights get strung on houses, cookies are baked, and trees go up in living rooms. But of course each country has unique customs, too.  
 
Today, we take a look at two Christmas traditions from the U.S. and U.K. you likely don't know about – and that will give you some fun ideas of things to watch and listen to this holiday season to keep your English skills sharp.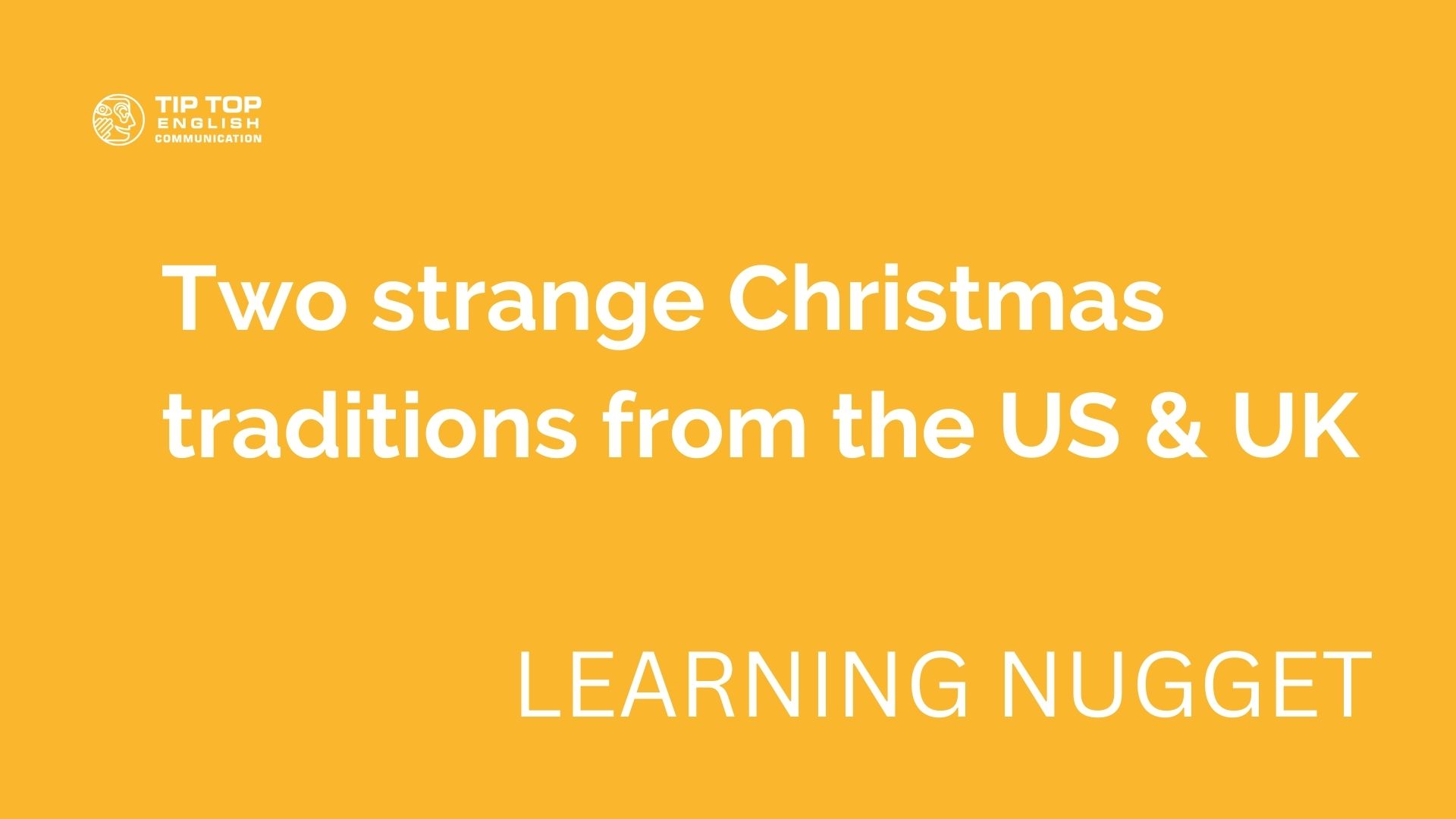 24 hours of A Christmas Story
There are a ton of English-language Christmas movies – from classics like It's a Wonderful Life and Miracle on 34th Street to modern favorites such as Elf or Love Actually. But none of those movies have had a streak like A Christmas Story, which is probably less well-known outside of North America than any of the other films we mentioned.
Since 1997, the North American TV stations TNT and TBS have been running A Christmas Story on repeat in its entiretyfor 24 hours straight on Christmas Eve. 2022 will be the 26th year they've done it.
The movie was released in 1983, but it's set in 1940 in a small town in Indiana. It's a comedy where a narrator looks back on his nine-year-old self's Christmas with his eccentric family, and it's on many lists of all-time best Christmas films.
The story jumps between normal life and fancyful scenes in the head of the narrator's younger self. For example, in one fantasy his short essay explaining what he wants for Christmas results in his teacher dancing around the classroom and his classmates cheering for him and lifting him on their shoulders in celebration.
The only major outlet where the movie is available for online viewing with English audio in Germany is Amazon. It's under the title Fröhliche Weihnachten.
The U.K.'s Christmas number one
Each year in the U.K. there's a huge struggle to earn the number one spot on the country's music charts the week of Christmas. According to The Guardian, the first time a contest for this distinction really caught public attention was in 1973 when the band Slade's "Merry Xmas Everybody" beat out a song by the group Wizzard.
As recently as 2013, Slade's members were earning over £500,000 per year in royalties from their ditty according to the Daily Mail.
That very public Slade v. Wizzard battle created an annual tradition that many Brits follow closely and do their best to influence. Formerly, they crowded record stores to buy singles and today they download songs on streaming platforms. People pick sides and argue with friends and family about which song should get the honor.
There's also a lively betting market around the winner.
Though it's not uncommon that the number one song isn't specifically about Christmas, perhaps the biggest surprise in this annual race was in 2009 when rap metal band Rage Against the Machine's "Killing in the Name" came out on top.
This happened thanks to a couple who were tired of a run of #1's from the British reality show X Factor, which was a musical competition that timed its winner's singles to come out right around Christmas each year.
The couple ran a successful social media campaign and the nation ended up with a Christmas number one that finished with the singer growling "F*** you, I won't do what you tell me" over 10 times.
Recently, songs written specifically to benefit charities have become favorites. The last four years, a YouTuber by the name LadBaby has had Christmas #1s with songs about sausage rolls that benefit an organization with the goal of ending poverty and hunger in Britain. Last year, his song featured superstars Ed Sheeran and Elton John.
The website Official Charts (and plenty of others) have the full list of U.K. Christmas number ones if you'd like to take a look at them and add some to your holiday playlist.
Happy holidays, everyone!
We at TIP TOP English Communication want to wish you all well this holiday season, and we hope you have a great start to the new year. Even if it's not a time when you're celebrating, we hope you find some light and joy in this dark, chilly time of year.
Next time you have a Glühwein, remember that it's called "mulled wine" in English…and think of us.
Vocabulary
rituals – Rituale
get strung on – werden angebracht befestigt an
trees go up – Bäume aufstellen
unique customs – einzigartige Traditionen
English skills – Englischkenntnisse
has had a streak – ohne Unterbrechung, in Dauerschleife
mentioned – erwähnt
in its entirety – in seiner vollen Länge (Gesamtheit)
Christmas Eve – Heilig Abend
released – herausgebracht
a narrator – der Erzähler
fancyful scenes – ausgefallene Szenen
cheering for him – jemanden anfeuern
huge struggle – gewaltiger Kampf
a contest – ein Wettbewerb
distinction – hier: Auszeichung, Unterscheidung
catch public attention – öffentliche Aufmerksamkeit auf sich ziehen
beat out  – übertreffen
earn in royalties – Tantiemen einnehmen
ditty – Liedchen
crowded record stores – überfüllte Plattengeschäfte
betting market  – Markt wo gewettet wird
uncommon  – ungewöhnlich
annual race – jährliche Wettrennen
benefit charities – Wohltätigkeitsverbände profitieren
recently  – erst kürzlich
goal – Ziel
poverty – Armut